By Alex Geli
Nineteen seniors' faces got a little bit less red as they exhaled their four-year-long deep breath.
Field hockey, soccer, lacrosse, tennis, cross country, football and volleyball-savvy seniors signed away their future Feb. 3 to a variety of colleges. From York College to Temple University, these colleges are sure receiving a gift in athletic director Jeff Roth's eyes when they signed their letters of intent to play their sport at their choice of colleges.
"We got a good track record here at Penn Manor of kids going off to college and being successful," he said, adding, "they're a great group of kids."
It was the largest group of athletes from Penn Manor to ever take part in signing day.  It also was the most athletes to sign letters for  Division I schools.
The list of Division I future attendees are as follows:
Elly Raush, Jacksonville University for Volleyball
Maddy Hess, Virginia Tech for Lacrosse
Renee Suter, University of Massachusetts for Field Hockey
Willie Chalfant, Temple University for Soccer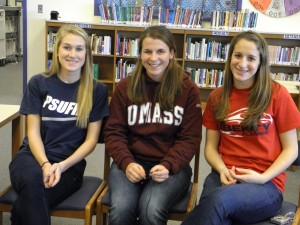 Katie Breneman, Penn State University for Field Hockey
Demetrius Dixon, Lafayette University for Football
Helen Doolittle, Liberty University for Field Hockey
"It's finalized. I'm good," Chalfant said about initialing his confirmation to Temple, "I'm very happy."
Relating to Penn State Main's campus, Breneman said, "It really fits me as a person."
Division II athletes include:
Clark Habecker, Millersville University for Soccer
Danielle Warfel, Philadelphia University for Soccer
Megan Wilson, Millersville University for Soccer
Teon Lee, West Chester University for Football
"It's a big relief of pressure," Habecker said.
Finally, Division III athletes are consisted of the following:
Zach Campbell, Virginia Wesleyan for Lacrosse
Spencer Barnett, Frostburg State for Lacrosse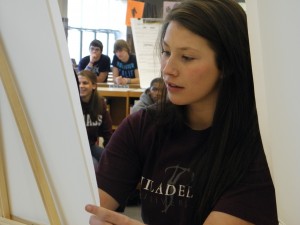 Eric Gerlach, Wilkes University for Soccer
Selma Brkic, Franklin & Marshall for Cross Country
Jaq Presbery, Elizabethtown College for Lacrosse
Janine Haberstroh, Lebanon Valley for Tennis
Tanner Kennedy, York College for Baseball
Connor Rowe, Elizabethtown College for Lacrosse
"It's a good feeling knowing I'm officially going," said lacrosse all-star Barnett.
"I feel like I'm ready for college," Gerlach said, foreshadowing his future at Wilkes.
Regarding their final decisions, the reasons vary.
"I couldn't say no to $8,000 a year," Barnett said with a smirk.
"I was offered a starting position. That was a big one (regarding my decision)," Gerlach also said.
"It's real close to the beach," said Campbell.
Smiles were all around in Penn Manor High School's library where students, teachers, parents and even WGAL gathered for the signings.
Collegial sports teams all around the country will be receiving some talent, straight from Calcu-lane and Chemi-street, the halls of Penn Manor High School.
But first, one of those talented seniors is planning another trip of his own before the journey to his college of choice.
"I'm going to Disney World!" Kennedy joked.
If you like Alex Geli's writing, check this out: http://pbandgeli.wordpress.com/