By Sam Valentin

The palace in Dallas will feature two teams which are arguably the most storied franchises in the NFL. The traditions of both teams go back to the likes of Vince Lombardi, Chuck Noll, and Bradshaw. Between them they both have nine Super Bowl championships.
The lights won't need to be on in Dallas with all the star power that will take the field at approximately 6:00pm Sunday night. Some players are just trying to make a name for themselves, others have to prove things and even a select few could solidify their place in history.
Packers quarterback Aaron Rodgers is playing under much scrutiny ever since he replaced Brett Favre so he could shut down all the doubters with a Super Bowl win.
Ben Roethlisberger is looking for redemption for his mistakes.  He is also gunning for his third championship in his seven seasons in the NFL.
"He's matured a whole lot," said receiver Antwaan Randle El, who returned to Pittsburgh after spending time in Washington. "And that's evident from the first Super Bowl he played in to the one he played in 2008. A very different quarterback," said Randle EL in an interview with ESPN.
Points could become scare in this Superbowl of supercharged defenses, that could reign over the bigger named players.  There are sure to be great individual performances by many of the players on both sides of the ball and both teams.  The Steelers will bring a variation of their 1960s Steel Curtain defense led by James Harrison and recently named AP defensive player of the year and the anchor of their gritty defense, Troy Polamalu.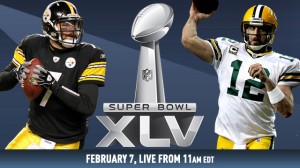 But the high powered Green Bay attack led by Rodgers and his famed wideouts have finally found the answer to their previous next to nothing running game.
His name Starks, James Starks the low draft pick who has really came up big so far for the Packers.
The Steelers offense isn't too bad in its own right, though. Led by Roethlisberger and veterans Hines Ward, who has some rumors about retirement after this season, and Rashard Mendenhall who is young but is looking forward to his time to run in the biggest spotlight.
The Steelers could be missing rookie and pro bowler Maurkice Pouncey who has a high ankle sprain and hasn't practiced all week.
This game could top the previous Super Bowls with well matched defensive and offensive teams.
The players maybe joking around today and just trying to keep their normal routines but come Sunday there won't be any jokes. Both teams will be all business and surely nervous as they step into the biggest spotlight of their careers.