By Simon Zimmerman
Ben Clark has had many accomplishments in his young life, now he has another.
When the 15 year old Senior from Penn Manor won the Siemens Competition in early December, Clark was also rewarded with ringing the closing bell of the New York Stock Exchange.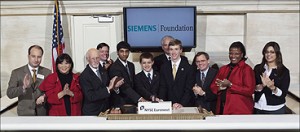 The Siemens Competition is a contention of math, science and technology whiz's that recognizes their will and strive of research in either one of these fields.
Clark won the $100,000 grand prize for the individual category of the Siemens Competition for his research on how new stars are born. This is a very prestigious award and is regarded as on of Clark's greatest achievements.
Ringing the closing bell is rewarded annually to the winner of this competition and Clark did not take this merit lightly.
"It was amazing to ring the bell, it is a pretty exclusive group and most people that have done it have been successful in some field," stated the ecstatic Clark.
Seeing that Clark has skipped two grades in his high school career,  qualified for the Untied States Math Olympiad twice, and won the Siemens Competition, success does not seem far out of his future.