By Lauren Pironis
Paper Towns by John Green is a new addition to Penn Manor High School library. The book received the Edgar Award for Best Young Adult Novel in 2009 and reached number five on the New York Times best seller list.
The story is centered around the lives of a group of seniors specifically Quentin Jacobsen, the narrator who weaves an adventurous tale of longing and curiosity.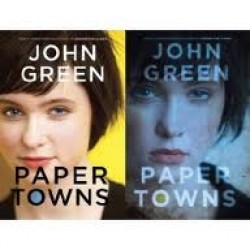 Quentin's long-time neighbor, Margo Roth Spiegelman, who he is secretly madly in love with, takes him on a one-night adventure throughout their hometown, Orlando. This encounter draws Quentin even closer to the rather distant Margo. However the next day, Margo disappears.
Her disappearance isn't out of character. She has disappeared before and always leaves clues. Her disappearance leads Quentin and his friends on a very difficult scavenger hunt.
The book is mostly Quentin's view of Margo and how his opinion of her morphs throughout the book with every clue he finds.
The book is named Paper Towns after a term used to define fake towns printed on maps to find publisher that merely copy other people maps.
This book is very well written and highly recommended.