Get comfy kids, turn on your TV's, and get your bowl of popcorn. MTV's Jersey Shore is back.
This Thursday, the popular reality show is airing its third season. After spending the last season tanning in Florida, the housemates return to New Jersey to live in their original Seaside Heights home.
All Jersey Shore members are returning for another takeover except one. Angelina "Jolie" Pivarnick, 25, has decided not to be a part of the new season.  Pivarnick bailed early during both the first and second season due to confrontations with the rest of the house.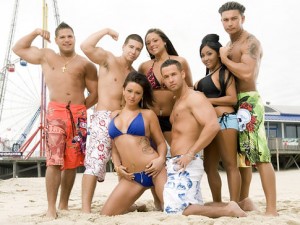 To replace Angelina, MTV has cast a new member, Deena Nicole Cortese. Deena originally sent in an audition tape for the first season that aired in 2009. She wasn't chosen, but Angelina opened the door when she left early in Miami.
Deena had the opportunity to watch the show while the rest of the cast lived it. Her appearance on the third season was a shock to all of them but her best friend Nicole "Snooki" Polizzi. The surprise causes problems right away and those problems will be featured in the premier.
This season is sure to bring just as much drama as the previous two. The first episode of Jersey Shore Season Three will air Thursday January 6 at 10:00 pm.
By Toni Warfel