"I want to win states…," said Bobby Rehm, jaw set, eyes filled with determination, "I want to win everything."
This must have been the Penn Manor senior's motto as he helped lead his team to a victory Wednesday night at the team's first dual match, posting an astounding 52-second pin for the win over Hempfield's 130 pound wrestler. This was the first dual meet of the 2010-11 season and the Comets are soaring, on their way to a winning season.
"The win was alright but I think we have the potential to have done better," said Rehm, very hopeful about the rest of the season, "I think we can have a good season if everybody puts in the effort. I want to win states… I want to win everything."
Also chalking a big "W" for the Comets is another senior and returning wrestler, Evan Singleton. Singleton, who wrestles in the heavyweight division, was also victorious pinning his opponent, although it took about a minute longer than his 130 pound teammate.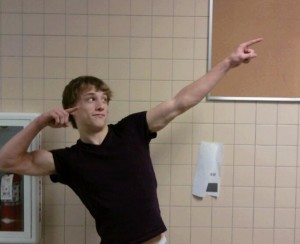 "We're shaping up to have a great season as long as the team continues to practice hard and give 100 percent," said Singleton. "Solanco will probably be the hardest dual meet of the season, but I'm confident we'll be able to demolish Columbia, we usually do."
With last year's already prestigious record of 29 wins and 9 losses, Singleton certainly has dreams of grandeur.
He wishes to go to states with "as many Penn Manor wrestlers as possible."
Penn Manor wrestling coach Steve Hess has a positive outlook on the season as well.
(We have the potential as a team to do) "good, and Mr. Rehm certainly has the ability and the drive to go to states and come back with gold. I'm very proud of Bobby," said Hess.
"We had a pretty good first tournament, placing seventh, and we placed even higher this past weekend, taking home silver," said the wrestling assistant coach Mike Fowler," if we hadn't had so many injuries and forfeited those points we would have certainly done better."
By Ben Embry and Dillon Walker