Penn Manor's football team slipped into the district playoffs with their most recent win, but with the team's record, they haven't been picked to stay long.
Friday night, the Comets beat the Cedar Crest Falcons 56-21.
Daulton Parmer got the student section in a uproar when he carried the ball 70 yards on the kick off. In the next three plays, Parmer scored his first of three touchdowns of the night.
The Falcons quickly came back with a touchdown from the kickoff by Dalton Ritter.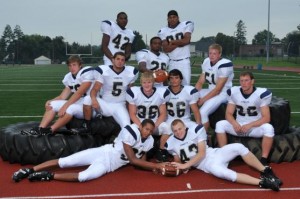 The Comets kept their heads up and continued to keep the lead.
In the second quarter, the Comets showed what they were really capable of. Adam Sahd threw a post pattern pass to senior Demetrius Dixon resulting in a 73-yard touchdown.
Shortly after, Teon Lee scored a four-yard touchdown, increasing the chances for the Comet's victory.
Cedar Crest tried their best to fight back. The Falcons did score, just slightly slower than the Comets.
Dylan Weber scored from six yards to bring the Comets lead to 49-14.
Garrett Levengood of the Cedar Crest Falcons, scored the last touchdown their team would see that night. Levengood sprinted 21 yards to the corner of the end zone, pushing for a win but falling short.
The last touchdown of the night was an 85-yard kick return by Parmer.
The Comets earned their fifth "W" of the season and are heading to the to the district three AAAA playoffs.
From Lee's aggressive running, to Parmers juke skills, the team had a great night and the victory will carry them to their first playoff game of the year.
By Kyle Hallett