Tonight the Comets square off in a District semi-final field hockey game with the Hempfield Black Knights.
But it won't be the first time they have met this year.
"I think we have a really good game plan. And I think if we play a good game it could be a lot of fun,"  said Matt Soto, head coach of the Penn Manor Comets field hockey team.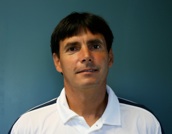 The Comets and Knights have done battle twice before this season. The Comets got the better of the Knights both times, with scores of 6-0 and 6-2.
The Knights made it to the district semis by beating Cedar Cliff 4-3, and Dallastown 3-1, proving that they aren't anyone to be taken lightly.
"We cannot be overconfident. We must play our game and we have to improve on the last time we played them," Soto said.
Suffering only one loss this season against Emmaus, a state power house, the Comets are heavy favorites in this match up.
If the Comets win, they will play the winner of Lower Dauphin and Hershey at Milton Hershey High School for the District Championship.
By Jessen Smith