We're champions…. again.
The Penn Manor Field Hockey team showed how dominant they have been these past few years, earning their second straight league title, defeating Lancaster Mennonite 3-2 in overtime.
The game's first points were scored with a goal by speed demon Madelyn Hess, with 20 minutes left in the half. The second goal was scored off a pass from McCoy to Kayla Bixler, putting the Comets up 2-0.
But the Blazers would come back and tie the game 2-2.  Mennonite's team effort was led by their goal keeper Kaitlin Brubaker, who had a spectacular 13 saves.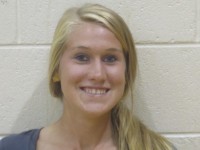 "The game was way too close for comfort. It was extremely nerve racking," said Matt Soto, the head coach for the Comets.
The Comets got a little help from a high stick penalty, putting the Blazers' defender Coleen Andrews on the bench for the last 2:55 of regulation and the first 2:05 of overtime. The Blazers would escape without allowing a goal while playing a man down.
Comets' all-star Renee Suter smashed a corner at goal, but Brubaker continued to play strong all night.
"She's (Brubaker) a very solid goalie," said Soto.
Almost immediately after Suter's game winning shot was called too high, hero Katie Breneman slammed one in.
"Katie's shot was almost perfect, it was right in the upper corner of the goal," said Soto.
By Jessen Smith