Where have all the fans gone?
Although many Penn Manor school sports are becoming a bright spot in the Lancaster-Lebanon League in recent years, other sports remain rather unnoticed – and their fans are scarce.
Unlike the more popular sports like football, field hockey, lacrosse and basketball, where  hundreds attend the games, girls tennis, girls volleyball, softball and cross country can hardly round up more than a handful of loyal fans.
Sometimes a tennis match has less fans than a football practice.  Why?
Some players from the unnoticed sports believe that people don't know about their sport.
"Nobody knows anything about girls tennis," senior Laura Revelt, from the girl's tennis team, said.
Words short and sweet to define the feeling these quiet sports players sometimes feel.
A member of the Penn Manor Girls Volleyball team for her fourth year, Alicia Burns, agrees with Revelt.
"The lack of support and pride for these teams are said to be lowering the performance because it doesn't always feel like a big game," said Burns. "There are few people that know. It would make a bigger impact on the game if we had more people cheering us on and following us."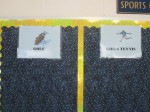 "Like football," Burns continued.  "I want to see that pride and encouragement through a sport like volleyball.  Two years ago Penn Manor Girls Volleyball were fifth in states. Who hears about that?"
The school was buzzing when the football team made it to states last year but other sports do the same with less spotlight.
Another team whose members sometimes feel "left out" is girls softball where, Brittany Wright, a senior, said she doesn't feel students support the team.
"The school doesn't know crap about softball," said Wright.
Wright said the people who come and watch their softball games are parents and rarely ever students.
"I think that students coming to our softball games would have an impact on our play and make us go from a 9-11-0 season last year to at least a .500 season," Wright added.
By Ryan Mays