The Flyers look to take all the marbles in their series tonight against the Boston Bruins.
After trailing their second-round playoff series 3-0 after the first three games, the Flyers have made a miraculous comeback to tie the series at 3 games a piece and force a game seven.
Usually during the playoffs being the road team is not something to look forward to. However, in the last nine games, the road team has won seven of those games which gives the Flyers a great fighting chance.
In the history of the NHL, only twice has a team come back from a 3-0 deficit to win a best of 7 series. If the Flyers win tonight they will be marked down in history as the third team to overcome this.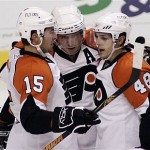 "It will be a monumental upset if they win," said Junior Brian Ramsey.
Besides the past statistics, the Flyers also have their team camaraderie on their side.
In the past three wins the Flyers have claimed, they have outscored their opponent 11-5.
Also the fact that they have won the past three games to stay in the Stanley cup race shows something about their team and their strive to win.
"They managed to come back this far, so I think they will win tonight," said Brant Roth, a freshmen at Penn Manor.
By Simon Zimmerman