The Young Humanitarian League presented a $5000 check to Norma Good, a volunteer for Heifer International, during this week's Tuesday homeroom, as part of a two-year long effort to raise funds for the organization.
The purpose of this foundation is to provide food and an income, based around animals, to those in poverty. The way the organization constructs their donation avoids shipping costs and ensures that the right breed of animal will be donated for the type of environment in that area of the world.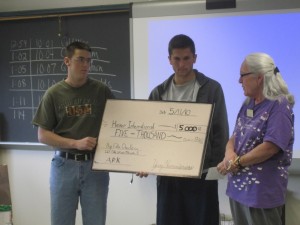 Before the animals are donated, volunteers go to the site of which the donation will be given and they construct a pen for the animals. They also take the time to educate people who will be receiving the animal so that they are properly cared for.
"Heifer is never done with a project until the people become self-sustained and self-sufficient for their livelihood," Good said.
After Good gave an informational session on Heifer International to the Young Humanitarian League, she presented a plaque to the club. The plaque the "Heifer International Making a Difference Award" and it was rewarded to the club for their large donation.
Cody Diehl, a sophomore on the Young Humanitarian League, donated $500 dollars towards the club's main goal of the ark last year, before he was even a part of the club. Cody's donation was ten percent of the entire proceeds.
Will Shipley, the club's president, and Diehl, handed the check to Good and received the award from her.
by Abby Wilson