The Penn Manor boys volleyball team was soaring through their season until Tuesday night when the team succumbed to Warwick.
With a 6-2 record before entering the game against Warwick, Penn Manor was playing really well while riding on a five-game win streak.
They took down Manheim Township, Cedar Crest, Conestoga Valley, McCaskey, and Garden Spot while on a roll.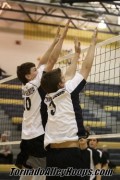 The match was never really close. In fact, Tuesday was the only time throughout the season that the Comets were swept during a match, meaning they lost the best-of-five-game match in three games.
Penn Manor lost the first two games of the match 25-17 and the second was 25-23.
The whole match came down to a third game which was a nail biter.
With the game tied at 25, the team that scored the next two points would have won the third game of the match.
The points were back and forth, one team was leading at one point and the other team was leading at another.
This pattern continued until Warwick took control.
The score was tied at 26 when Warwick finished the Comets off with two straight kills to end the game, the match, and Penn Manor's win streak.
Penn Manor's next game will be a showdown against Hempfield, Penn Manor's biggest rival and the division leader with a record of 6-1.
By Simon Zimmerman