They did it. Not only did Penn Points qualify for the honor of being finalists in the national Pacemaker award, they were one of seven who actually won this recognition.
The two seniors from Penn Manor who attended the conference, Abby Wilson and Alex Geiger, had the privilege to walk in front of the three thousand people in the main convention hall and receive two different awards. The first was a plaque stating that they were finalists in the Pacemaker award, honor enough for the Penn Points' first year online.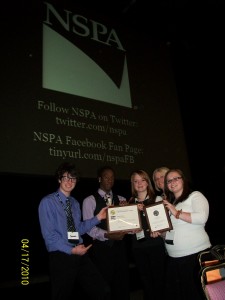 To complete their achievements their name was called as one of the winners, which brought their adviser, Susan Baldrige, truly to tears.
The awards aren't the only remarkable things that the staff is bringing back to Penn Manor. They are taking with them an abundance of fascinating information and brand new ideas to further improve their website and their journalism course.
"Journalism is the Twenty-First Century English" curriculum," Paul Kandell, adviser from the Palo Alto Paly Voice in California.
By taking this trip across the country, the Penn Points staff is working toward making this statement a fact at Penn Manor.
By Abby Wilson