For the first time ever, Penn Points is posting from the other side of the country.
Four of Penn Points' staff members have traveled to Portland, Ore., for the National Scholastic Press Association convention.  The NSPA, the world's largest student journalism organization, has named Penn Points as a 2010 Pacemaker, one of the top online student newspapers in the country.
The editors from the Penn Points staff are learning all kinds of new journalism tactics to improve the entire layout and content of their online newspaper from the convention center workshops.

"I've learned that there are good ways to tell stories using pictures and videos," Alex Geiger, Penn Points photo editor says of the media seminar he attended on Friday morning.
The students have been attending seminars given by journalists and design experts all morning and have heard several keynote speakers that have given them  hope for the journalism field in their future, and in Penn Points' future.
"The speakers were able to connect with us by using examples of real life scenarios and connecting them with everyday story writing," says Rob Henry, editor-in-chief.
Not only have the students been learning new techniques for writing and storytelling, they have been introduced to new technology programs that will further improve the multi-media approach to journalism.
"Adobe has come out with a new program called Lightroom and it will help get tasks, that are usually done with Photoshop, finished faster than ever before," says Lyta Ringo.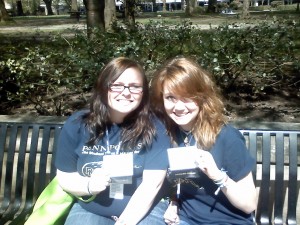 The students are really taking in the atmosphere of the convention and are taking advantage of the opportunities that they have been given, thanks to the Penn Manor school board who approved the trip.
"It took the cooperation of everybody to succeed in the little time we had to do so," says Henry of the immense support of the Penn Manor administration.
The students aren't the only ones who are learning at the conference, the teachers have been given the opportunity to go to special seminars for advisers.
"The morning sessions were fantastic, I learned a lot of new ways to tell stories online. I'm excited to come back and share all of my new ideas with my students," says Susan Baldrige, Penn Points adviser.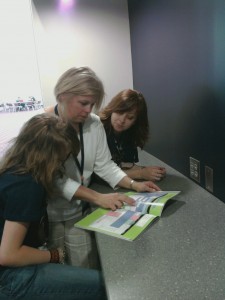 The students and teachers from Penn Manor are all ready to hear the results of the Pacemaker awards which will be announced on Saturday, they are one of thirteen in the nation to be nominated for this prestigious award.
"I got the butterflies going already, Abby and I are going up to get the award so I'm pretty pumped to show this town what I'm made of," says Geiger.
Wait for tomorrow to hear the results of the Pacemaker award and the final day of the Spring National High School Journalism Convention.
By Abby Wilson