Some say it's a breeding ground for predators, others say it's a great way to meet people around the world.
It's creator hails the website as the new "Facebook 2.0."
Chatroulette.com describes itself as a "brand new service for one-on-one text, webcam and microphone-based chat with people around the world."
In other words, it's like a newer, more high-tech and more dangerous version of the original chat rooms that popped up when the Internet was first available.
But the head of Penn Manor technology warns the popular site is a site taken over by perverts.
And although most people who use Chatroulette think they are totally anonymous, other applications allow the participants who are in the chat rooms to be located on a web map.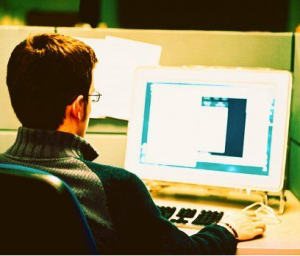 An online newspaper, TheWeek.com, which details national and international news, calls it "(Chatroulette), an anarchic venue where users of any age do whatever they like in front of live webcams."
A junior at Penn Manor High School, Brittany Wright, is one student who regrets getting onto the site Chatroulette.
"I went on Chatroulette the other day 'cause it was on T.V. and I was curious," Wright said, "There were half-naked people every other person I got, thank goodness for the "next" button."
The "next" button Wright is talking about is one of the only considerate things on the site. It allows you to say goodbye to your current chat partner and get a new one, which in many cases doesn't help at all.
The problem in question is exposure, people are doing whatever they want in front of a camera, sometimes the activities are disturbing.
Genny Leonards, another junior at Penn Manor  says of the site, "Every time I would get another person it would be the exact same thing, all I saw was [male and female anatomy]."
Yes, people go on Chatroulette and show their private parts to other users who are usually caught off guard, even the "next" button doesn't help.
But most of the people interviewed at Penn Manor say the sexual harassment is too much. Kiersten Creasy, a junior at Penn Manor, said, "I definitely won't get back onto the site. It was so gross, who wants to get in front of a webcam and show themselves off? I mean that's just gross."
One of the most frightening aspects of Chatroulette is an application that allows the computer user to see a live map of those users in the area, or for any particular spot in the world.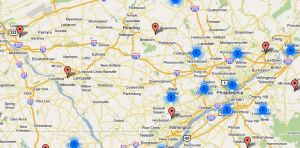 Chatroulettemap.com, which is a map that shows where people who are logged onto the site live,  eliminates a certain anonymity that generally a Chatroulette member would be looking for. The map shows a user's exact location, a helpful zoom button lets you narrow down to nearly an exact address.
Creasy, Wright and Leonards agreed the mapping aspect takes the site too far.
Many people would think that a lethal combination of sexual harassment and that added creepy factor that Charoulettemap.com brings to the table, would make Chatroulette a website in decline, but surprisingly some major companies are interested in this growing phenomena.  Google, DST, Skype and Yandex, all major multi-million dollar companies, have expressed an interest in investing in Chatroulette, according to its own website.
Andrey Ternovskiy, the 17-year-old founder of Chatroulette, told reporters that he's not interested in selling the site, and that he would feel he would be letting Chatroulette users down if he sold it already.
The question on everyone's mind right now is, how safe is this site?
Lindsay Shockley a Junior at Penn Manor warns future users, "I would say you have to know what you're getting into because its not guaranteed that you'll get nice and sweet people every time, most of them are perverts."
Charlie Reisinger, the director of Technology for Penn Manor School district, answered a few questions about the technology and safety of this site.
Q. "Many people who have read about the lap-top camera fiasco at Harrington High school, which involved an allegedly hacked laptop camera of a student, have asked, could someone from Chatroulette hack onto a users laptop camera after they've already logged off?"
A. "As far as my knowledge, no. But that doesn't mean someone couldn't write a program and hack into a computer and do exactly that. Someone from a remote location couldn't just simply turn on your camera and spy on you, but it could be possible from a worm or a virus from a hacker.
Q. "What would you say to people thinking about using the site?"
A. "I would tell them going into it you need to know that its an unregulated, uncontrolled, free-for-all. About 20 percent of the people using Chatroulette are perverts and people need to know that before going into Chatroulette."
Q. "How do you feel about Chatroulette the site?"
A. "It was an interesting tool until it was ruined by perverts, its such an interesting concept, but the same internet safety rules apply, be very careful with the information you release to people."
Q. "How accurate is the Chatroulettemap.com map?"
A. "It is very accurate. The map itself is based on IP addresses that each indivdual computer has. The IP address is matched up with a Chatroulette snapshot from Chatroulette, and your address is no longer anonymous. Everything you say on the internet or do can be traced back to you, and Chatroulette has no warranties, its basically use at your own risk"
Q. "Would you say Chatroulette is a breeding ground for predators?"
A. "I would definitely agree with that, it's a shame because it could have been used as a very interesting tool."
By Dana Poetzl