The Penn Manor quiz bowl team was facing tough competition Thursday night in the quarter finals of the year-end championship tournament, and without their captain.
Grant Elledge, the team's strongest player, was incapacitated, recovering from a broken femur from a car accident when Penn Manor went up against the team from Cedar Cliff.
Although Cedar Cliff, who had lost before during the regular season of competition and returned thanks to the wild card system, was also handicapped having lost a player for unknown reasons.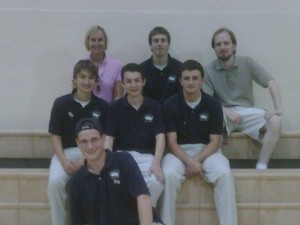 But Penn Manor rose to the challenge overtaking Cedar Cliff 410-380, thanks to an early dominance by the Comet's Lars Andersen and a late-game answer streak from Brendan Stoeckl, along with the efforts of Christine Sharp and Henry Stewart.
"He [Elledge] was out, but the rest of the team did a great job of making up for it," said Sallie Bookman, Penn Manor Gifted Program supervisor.
The team now advances to the semi-finals round of the tournament, Penn Manor is already one of the final four out of 38 other schools which participate.
Penn Manor's latest victory will be aired May 8 on WGAL's show "Brain Busters." Meanwhile, Penn Manor will be facing Cedar Cliff again, who returns in the wild card slot for a second round.
By Kennedy Phillips