Mount Rushmore, Grand Canyon, Hogwarts.
Which one would you choose?
On June 18, The Wizarding World of Harry Potter theme park will open in Universal Studios in Orlando, Florida with rides and attractions straight from the series that millions have fallen in love with.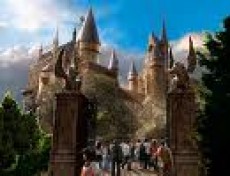 "Our primary goal is to make sure this experience is an authentic extension of Harry Potter's world as it is portrayed in the books and films," said the production designer Stuart Craig to gossipcenter.com
The park includes a realistic Hogwarts that takes guests on tours allowing them to view areas from scenes in the movies, a replica of the rustic shopping village, Hogsmeade, and a wild, two car racing rollercoaster called the Dragon Challenge.
Harry Potter lovers all around the world– including at Penn Manor, are more than hyped for the unveiling.
"I'm so excited to go in July for my cousin's 18th birthday party," said Mikayla Herbert, "I want to walk through Hogwarts!"
"Our field hockey tournament is in Florida next year, so I'm excited to see everything," said Kayla Bixler.
"I would want to go if it wasn't so far away," said Ryan Newswanger.
Along the way throughout the park, attendees may also run into Hagrid's hut that takes you on a smaller rollercoaster named The Flight of the Hippogriff.
After experiencing all the rides, guests can even visit a replica of The Three Broomsticks restaurant where they can choose from foods such as butterbeer (a non alcoholic beverage from the books), fish and chips, peanut butter ice cream and more.
Many travel sites offer generous travel packages, and universalorlando.com offers a one day pass to Universal Studios for as little as $109 for an adult.
But if one day isn't enough, the same site offers seven day passes for only $169.99 for an adult.
Households with children ages 7-14 can also enter a scholastic contest for a family of four for an all travel expense paid trip to visit the park for 3 days at www.scholastic.com/realmagicsweepstakes.
Whether a devoted fan, a movie lover, or just jumping on the band wagon, the theme park is sure to fulfill the dreams of anyone who ever wished to step into Hogwarts.
By Mike Nitroy and Lindsey Ostrum