Ten years of bowling with the waxed lanes and the sounds of the pins falling, has finally paid off.
Penn Manor bowler Coty Johnson is off to nationals to compete against the best of the best from across the United States.  Fifty bowlers (one from each state) will compete in Indianapolis.
The road last traveled was not an easy feat, to say the least, for Johnson.
Johnson has been bowling since second grade and hasn't looked back since.
"It was just for the fun of it," said Johnson, "and then it got competitive."
In order to compete at states you have to be at least twelfth seed or better. Johnson barely pulled off being in the tournament in the twelfth spot.
"It was a shock, I was emotional. I was packed and ready to leave," said Johnson.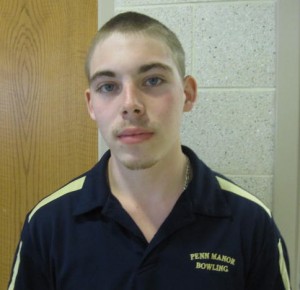 In the first round of states, Johnson beat the fifth seed. From there, he beat the fourth, third and second seed in the competition.
In the final round of the tournament, Johnson had to face an already two-time state champion. The odds were stacked against him but there was nothing to do from there but bowl the best he could and hope it would all pay off.
It did.
The final score of the game was Johnson-222 to the first seed's score, Antonio Palangio, of 165.
"It's a thrill, really exciting to be the best in Pennsylvania." said Johnson
Now with a state championship under his belt, along with four 300(perfect) games, a 832-3 game-high series and more than 30 trophies, Johnson is on his walk to fame.
Johnson plans to continue to bowl in college for West Chester University.  He earned a $5200 scholarship from the PIAA youth bowling.
"I plan to go to West Chester University and bowl for them while trying to get a degree in sports med," said Johnson.
Penn Manor's bowling team captain is now on his way to nationals to bring back a new title.
By Mike Bouder