"That ain't right."
Seriously?
What "ain't" right is your grammar.
Being in school every day, I hear hundreds of voices. Voices that are yelling and voices that are whispering. I hear the voices of students, teachers, janitors and anyone else who happens to be in the halls of Penn Manor. Everyday I am amazed by the amount of improper speech that flows from every sort of person's mouth.
I don't understand how after spending at least nine years in school, no one seems to understand there isn't an "s" on the end of "you" or that things went "well," not "good."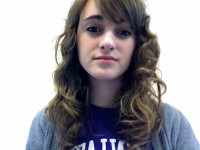 When I hear things like: "Can I go to the bathroom?"
I'd like to reply, "I certainly hope you can."
It's exactly like nails on a chalkboard for me.
Each time I hear that our school has "less computers" than is desirable, I desire to stamp the word "fewer" on their forehead. It's as if no one has ever heard of the word.
Everywhere I turn, phrases like "alls you got to do" and "I should of" get under my skin and on my last nerve. I would be willing to do just about anything to rid the school (and the world) of these horrendous sentences.
Maybe I'm hyper-aware of these mistakes because I was raised with bad grammar as the "Eighth Deadly Sin" and "grey" was spelled with an "e," never an "a."
Regardless, poor grammar just "ain't gonna" cut it with me.
By Sarah Schaeffer