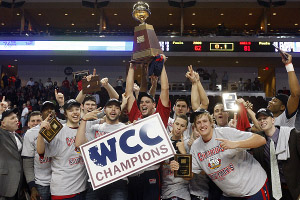 In one of the biggest upsets this year, Saint Mary's Gaels went to the big dance as an automatic bid. The Gaels upset 14th ranked Gonzaga in the West Coast tournament.
But don't worry, the Zags will still make the tournament as an at-large team.
The 12th-ranked Butler Bulldogs will get an automatic bid into the NCAA tournament instead of an at-large bid they would have gotten if they would have lost.
Wofford Terriers also clinched an automatic bid by beating Appalachian state and winning the Southern Conference. It's the first tournament appearance in their history, this includes Nit and NCAA.
Siena rallied to come back and win an overtime thriller against Fairfield to win the MAAC title.
Old Dominion reserves their spot in the big dance again by beating William and Mary in the CAA final.
Robert Morris wins a back and forth game against Quinnipiac 50- 52 to win the Northeast conference tournament and to go to the NCAA tournament.
Montana heads to NCAA tournament after beating Weber State in the in Big Sky tournament final on the back of Senior guard Anthony Johnson's 42-point night which is a record in the Big Sky tournament.
Winthrop beats Coastal Carolina in the championship game of the Big South and apparently they want Kansas. Winthrop fans were were chanting this as time wound down.
East Tennessee State wins its second straight trip to the Tourney by topping Mercer in the final of the Atlantic Sun conference.
Cornell wins the Ivy league with an easy win over Brown.
With a second-half surge, Northern Iowa beats Wichita State in the Missouri Valley Conference to send them to the tournament.
In the Ohio Vally conference, Murray State wins against Morehead State to give them their 3oth win of the season and, more importantly, an automatic bid to the big dance.
Oakland prepares for the dance after beating IUPUI in the Summit Conference championship. Their coach says they are prepared to mess up some brackets come tourny time.
North Texas's little guy, Josh White, stepped up and hit the game winner to seal their fate to go to the NCAA tournament by beating Troy by three in the Sun Belt conference.
By Sam Valentin