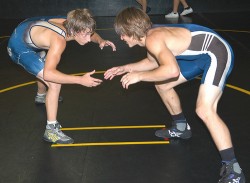 Unfortunately the saying, "all good things must come to an end" was proven true for Penn Manor wrestler Bobby Rehm.
Rehm entered the PIAA state tournament after winning his second straight section title in the AAA class with a 36-4 record.
The junior was defeated in the first round of states on Thursday, March 11 to Bethel Park's sophomore, Dylan Morgan who had a 23-1 record entering the tournament.
Rehm, who was in the 125 weight class, was defeated 5-4 after he was tilted in the third period ultimately causing his defeat.
Being only a junior, Rehm will continue his dominance next year in the LL league in his quest for another run at states.
By Cody Erb