Jr. Suarez is an average teenage student who walks down the halls of Penn Manor.   There are  just a few exceptions, he has quarter-sized ear holes, known as gauges and two lip piercings.
Although not entirely comonplace, these types of piercings are becoming more of a trend at Penn Manor. It is not unusual now for teens to sport all kind of piercings which, years earlier, may have been considered weird.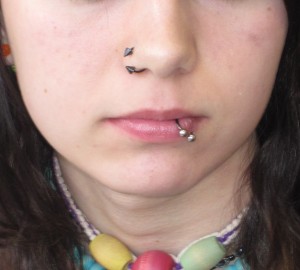 Suarez doesn't just have one gauge and one lip ring, he has two along with his statement: "two is always better than one."
It took Suarez a minimum of four and a half months to go from an 18 gauge to a ¾-of-an-inch gauge. He now has ¾-inch gauges and double lip piercings known as snakebites.
Jr. says about his gauges "I wanted them since the seventh grade."
Why would someone go through the pain of having a needle through their face or stretching of their ears?
"I got my eyebrow done because I want to be different and not a lot of girls have them," said Genny Leonards, a junior at Penn Manor.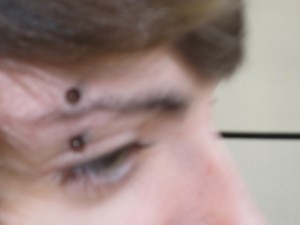 Although Adrienne Herr, a senior, doesn't have facial piercings, she has an opinion about people who do.
"At a first glance, facial piercings may seem scary but if you judge those who have piercings without getting to know them, then maybe you're the one who needs to change," said Herr.
Ear Stretching is the means by which one can gradually stretch their ear piercing. A normal pierced ear is a 18/20 gauge.The largest gauge to stretch to, without the capability of returning to the normal size, is a two gauge also considered  the"point of no return" according to www.earstretching.net.
The correct way to stretch your ears is one gauge at a time (14-12, 12-10), the lower the number the larger the piercing, according to www.onetribe.nu.
If someone really wants to fix their ears from having an oversized hole they can have surgery but it shouldn't be done until the deformity stops improving, according to www.arka-shop.co.uk.
One of the downsides of gauges is they stink.
Travis Healy said, "If you like moldy cheese then get gauges, because that's what they smell like."
A majority of facial piercings consist of nose, lip and eyebrow [most noticeable type of piercing.]
Work can be a problem when having facial piercings and gauges.  Some work supervisors tell their workers that they will not accept any types of piercings.
Adrienne Herr said "The biggest downfall to facial piercings might only become evident later in life when students start their job search."
Another downside is they can interfere with day-to-day activities like eating with a tongue piercing.
Genny Leonards said, "when I sleep, it [eyebrow piercing] sometimes gets caught on my pillow and becomes sore."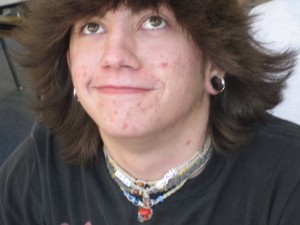 Jack Gunzenhauser doesn't see any end in sight for his gauges. He already has stretched his ear lobes close to an inch.
"Go bigger, go, go!"
By Stephanie Herr