I have never been so nervous or excited to watch a high school basketball game and never had more trouble getting into one.
It was Penn Manor against better-ranked Harrisburg team for another rung up the district competition ladder.
All week coach Charlie Detz had been preaching, "expect to win." Even as a JV scrub, I understood the magnitude of this game.
Having the game at Cumberland Valley's gym, put it on a whole different level.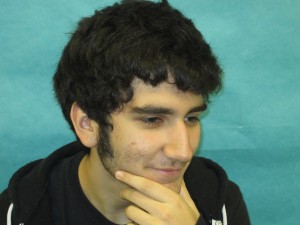 As the game was about to start, an unforeseen problem occurred – we couldn't get in.
We were faced by a fierce-browed ticket lady who clearly took her job very seriously. She said since we weren't playing in the game (thanks for pointing that out) we needed a ticket to watch. How demoralizing. The only thing more embarrassing was the fact that we ended up sneaking in as ball boys, but hey, I saved $5.
When the game began, Harrisburg's crowd was out in full force with comments like, "they're just happy to be here," and "this ain't football." For the first 24 minutes, they were right.
In fact the only thing humorous about the first two quarters was the lone freshman on the JV team, Alex Quinn, who entertained everyone by wearing his sweatshirt around his waist. This was just one of the hilarious things Quinn did throughout the season, like "accidentally" filming the other team's cheerleaders. Quinn can't avoid doing things that are just plain funny.
When the fourth quarter started, I was afraid the momentum was swinging Harrisburg's way. I looked into the eyes of the five senior starters who knew that this could be their last quarter of basketball, ever. Did I see fear or disappointment? No, I saw fire.
Jon Brooks, who had been quiet all game, pick-pocketed a Cougar guard and took it down for a lay-up which sparked the team's morale. Suddenly everyone's intensity picked up and an 11-point deficit vanished with key buckets from Brooks and Keith Eshleman.
During the very last time out, Brooks came off the court and yelled, "expect to win!"
Even when no one else expected us to win, we did.
The game went down to the final seconds and, needless to say, we won by only two points.
But a W is a W, afterall. But to beat Hempfield, we need to "expect to win."
By David Mohimani