Two years ago, Penn Manor's emerging bowling star, Coty Johnson, was in a match for his local league bowling team with a perfect game going into his final frame.
With one more strike to get the perfect 300 score, Johnson let loose on a bowl that could earn him this incredible feat.
"It felt good coming out of my hand, but when I saw that one pin left standing, it was definitely tough," says Johnson.
The junior, who has bowled six perfect games before in practice, had another crack at the perfect game in a varsity match against rival Hempfield Saturday, Feb. 13.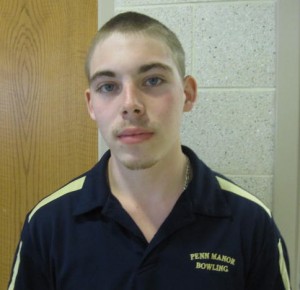 Johnson cruised his way down to the twelfth and final frame with a perfect game in sight.
"Once you get to the eighth or ninth frame and everyone is watching you because they know [a perfect game] is at stake, you start to get pretty shaky," said Johnson.
It was all quiet, and with one more strike to reach perfection, Johnson stayed with his shot and nailed a strike to give him a flawless score of 300.
"It was a huge thrill," says Johnson, "It was a great feeling."
Johnson is one of Penn Manor's top bowlers and his team is in the hunt for the playoffs as they stand in second place in the league.
They square off against Cedar Crest on Thursday, Feb. 18 needing four out of their seven games to turn out in their favor.
Johnson, due to a recent hand injury, will not be able to participate in Thursday's match which could end up being crucial to Penn Manor's chances.
Johnson's incredible achievement will carry on with him throughout his bowling career at West Chester University as he looks to better his skills in hopes to become a professional bowler.
By Cody Erb