Getting home at 3 am and going to school four hours later is not your typical teenage life. For two Penn Manor students, life has been anything but typical since the formation of Carousel Kings.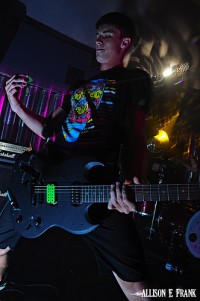 The band formed sometime around November 2008 and has never looked back. Members of the band include Penn Manor students Luke Harvey as the lead guitarist and Andrew Zell on bass. Also inlcuded in CK are Solanco graduates Dave Garman on vocals and Kyle Cater playing guitar,  as well as Ephrata High School alumni Max Fasnacht behind the kit.
Appealing to audiences between the ages of 13 to 21, Carousel Kings has managed to tour twice in their band's short lifetime.
Their first tour spanned two weeks during the summer, with the band playing in eleven different states. Then, in December, they toured in New York, New Hampshire, and Massachusetts for three days over the weekend, arriving home from their last show at 3am Monday morning. It costs a good amount of money (and sleep) to be in the band- they need to pay for gas, food, shirts, and equipment, just to name a few things.
Zell also explained that the band is going to be recording a full length album in late February, and hoping to release it sometime around May.
"We're looking to go in to the studio for a week or two to put together a ten track album, which is going to be called 'Don't Be Immature About This,'" Zell explained. "I'm really stoked to be recording again and doing more weekend tours, it's just a blast to go out and play and meet new people."
Anyone who is interested in hearing the band can listen to them on several internet websites including: MySpace, Facebook, Purevolume, and, according to Zell, they are coming soon to iTunes.
If you like what you hear and want to attend a show, Carousel Kings will be playing at the Chameleon Club on January 29. The show is from 6-10 pm and tickets are $9 in advance. Appearing with them will be Digital Elvis, Bells, Signals the End, Like Wild, and Radioflyer.
By: Tyler Beckley