Sprinkled throughout the halls of Penn Manor are girls in short shorts and ripped jeans, and guys with their backsides exposed for all to see.
No matter what rules are put into place about the dress code, it never fails that students will be showing too much skin to handle.
Many students in Penn Manor are familiar with Dr. Mindish's infamous video about the dress code which highlighted points about what not to wear to school. Inappropriate clothing includes: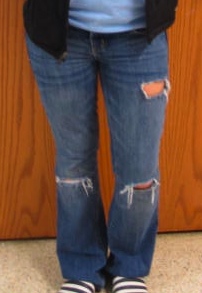 1.)    Hats and hoods
2.)    Shirts that reveal cleavage
3.)    Tank-tops that are less than three inches wide
4.)    Midriffs that are not covered
5.)    Shorts/Skirts/Dresses that are shorter than mid-thigh
6.)    Holes in jeans above mid-thigh
Yet, everyday, students in Penn Manor violate the dress code.
"If I can see your undergarments, I'm saying something," Jason Hottenstein, school resource officer states.
Girls may be sent to Krista Cox's (high school principal) office due to dress code violations. They will then be asked to change into a unisex pair of sweatpants or an oversized tee shirt, according to Hottenstein.
Despite the penalties, student Taylor Smith said, "I feel very sexy," when she breaks the dress code, wearing things like low cut shirts and ripped jeans.
Karli Heiserman believes that she wears what she wears because "I really don't feel like it concerns anyone what I wear," and, "a little cleavage never hurt anyone."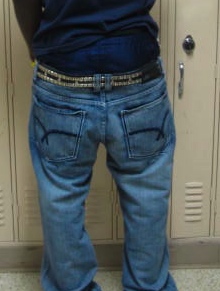 Many other students agree with Heiserman. Cheryl McDonald also thought that "You should be able to wear what you want."
"I'm not trying to impress anyone," says Teerney Nace, who reportedly breaks the dress code by wearing holes in her jeans and having shorts that are considered to be too short for school.
Lauren Richards also said, "ripped jeans are just in style."
Also in style now, are low cut shirts and short dresses with leggings underneath, all which are violations of the dress code, and can be found on the bodies of many students walking though the hallways.
As opposed to the students' cries that 'it's just what is in style,' and their claims that 'they just want to wear what they want to wear.'
Michelle Wagner, part of the staff at Penn Manor exclaims that, "I would say that they (the students) are looking for attention."
By: Kimmy Bowman