In 1991, a man by the name of Four Chapman took over a football team (Bishop McDevitt) that once had a championship-caliber team but by 1990 had become a non-factor in statewide competition. Chapman turned his team around in just four years and made them state champions.  Two of those champions were brothers – a tandem force on offense and defense.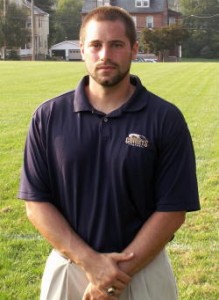 Todd and Tommy Mealy, respectively linebacker and running back, accomplished something that will never be forgotten  in the history of high school football. They helped Bishop McDevitt win it's first and only state championship in 1995.
Almost fifteen years later, these brothers will meet again on the same field. This is the field on which  their state championship team played its home games. This time they're trying to lead their own opposing teams to victory as they face off for the first time since they themselves put on a crusaders jersey.
Todd Mealy became Penn Manor's head football coach in May of 2007 and helped turn a program without a winning tradition into a team with young, talented players who are playoff contenders.
This past Friday, Penn Manor played at South Western and came up with a big victory to make it to the third round of playoffs for the first time in team history.
"The win was big for the program," Mealy replied  "In the past three years, Penn Manor established a program of consistent winning, and making it one step further than the 2008 season is special."
Never successful in post-season play, Penn Manor has no experience with this kind of football.
"We have taken this program into uncharted waters," noted Mealy.
According to Mealy, this year's senior class for Penn Manor might be the biggest one yet but it also will be one that will be remembered for its courage to never give up or throw in the towel when winning didn't come easily.
"This is not about me and I don't want it to be about me, its about our 45 players who put in the long hours and put themselves in this situation," said Mealy.  "One of my biggest concerns is that I want our kids to play at their best, play at their maximum."
Meanwhile with big brother (Touchdown Tommy) back in Bishop McDevitt as an assistant coach, Tommy is trying to add another district title to the seven that his team already has.
This might seem to be a version of the David And Goliath story. With multiple district championships and a state championship to its credit, Bishop McDevitt towers above Penn Manor in its post season experience.
But even with the lack of playoff experience, Todd Mealy isn't afraid of facing his brother in competition.
"Whether playing basketball in the driveway, football in the back yard or going after the same girl, we have always been competitive," Todd Mealy said.
"A competitive relationship is important, helps one grow as an adult and professional," he  added.
Thanksgiving dinner this year might be a little out of the ordinary since the two coaches won't be able to talk about their game-time situations.
The most difficult thing this Thanksgiving weekend will be which side of the football stadium, the Mealy parents will sit on and which son to cheer for. That alone might stir up some competitive spirit between the brothers as they munch on turkey and yams.
But Mealy is focused on the future as well as the upcoming game.
"I'm grateful to be in this situation, to lead young men onto success. I'm happy with the fact that this coaching staff is giving these kids something to remember for the rest of their lives."
The Penn Manor vs. Bishop McDevitt District III Semi-final football game will be played this Saturday at 1:00 pm at Harrisburg High School's Severance Field, 2451 Market St., Harrisburg, PA, 17103.  Tickets will be on sale at Penn Manor High School Tuesday and Wednesday from 9-11am and 1-3 pm in the High School Main Office and 11 am – 1 pm at lunch.  Ticket prices are $5 adult and $3 student.  All tickets will be $5 at the gate.
By Damien Oswald and Cassey Graeff