It's coming. The day seniors have been dreading since they first stepped foot in Penn Manor High School this year.
In a mere two weeks, Penn Manor seniors will be presenting their graduation projects. But do any of them really know what they're doing?
In Brian Gorski's case, no, he doesn't.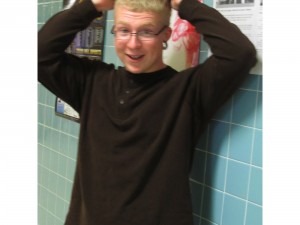 "I'm not prepared for it," Gorski says.
Gorski only started his project two weeks before it was due, and still hasn't finished it. He claims that this project isn't going to help him in life.
"I think it's pointless," Gorski said, during a Tuesday homeroom.
But the point of this four-year project was to help students explore different career paths, and point them in the right direction, according to high school counselor, Jess Minko.
However, senior Ryane Hillery, feels differently. She also hasn't finished her project and she feels that it was a terrible experience.
"You're expected to pick your life's work while you're in high school, which is unrealistic," Hillery says.
Although, many students feel this way, the counselors want to send the message that the project was never intended to be portrayed that way.
Minko explained that the students were not expected to pick a career and be stuck with it for the rest of their lives. They were supposed to explore different career paths so that they can learn a little about many different careers.
Guidance counselor, Kim Marsh, clarified that no matter how many students decide not to do their project, it will still be a requirement to graduate.
Marsh explained that every state must have a graduation project and Penn Manor cannot change that.
This year's senior class had a different project than any other class. The classes that graduate after them aren't required to collect any papers, which eliminates the problem of losing papers and folders. The freshman, sophomore and junior classes got the advantage of having their entire project online.
However this isn't the  only a problem for this year's seniors; it's an adjustment for everyone. The teachers, counselors, and principals had to learn how to teach and grade a project that was also foreign to them.
This project change was not completely up to the staff at Penn Manor either. The state had changed the requirements for the graduation project, so Penn Manor had to do the same. The project at Penn Manor was also intended to be similar to other schools in the county, according to Minko.
Students like senior Kayla Drexel just felt that the project had been disorganized, but not completely pointless.
"It's not going to help with my life. It was good to research colleges, but I would have done that on my own…I didn't need a project to help me do it," says Drexel.
Minko explained that the students that have taken the initiative to ask questions about the project haven't had as tough of a time with the project and have realized that the project is not as confusing as it may sometimes be portrayed.
But was asking questions always very helpful?
In senior Katie Trout's case, it doesn't seem so.
"Guidance counselors couldn't even help us because they didn't know what was going on," Trout says.
Trout is finished with her project, but feels that everything seemed impossibly hard to do and she doesn't feel as though this is going to help her with her life.
Marsh acknowledged that yes, the projects are definitely getting better by grade and fewer problems have arisen.
Seniors this year who didn't have their projects finished weren't able to get a parking pass at the high school in August.
"Typically most students wait until it's due," Marsh says, however this year's seniors were required to hand their project in last spring, "that threw a curve ball in some people's plans to do it later."
Marsh has seen several problems with this graduation project. Marsh said that many students just don't know what's required of them.
"I just feel like I wasn't informed enough on exactly what to do," senior Taylor Coulton says of his graduation project. Taylor's guidance counselor had to walk him through his project and now he's mostly done, except for the three-page paper.
Other students either lost their folders or claimed their folders were lost by someone in the school. Some students just didn't get their community service done.
Lynn Torbert and Lexus Embry can definitely relate to these statements.
Torbert's papers were lost but she did finish her project and she says that the project did its job. It helped her figure out what she wanted to do as far as a career.
Lexus Embry is still having trouble getting her community service hours done. She still has twelve hours to finish. However Embry's project wasn't all bad.
"I already knew what I wanted to do but the project helped me realize it was exactly what I wanted to do," says Embry.
However there is a solution to many of these problems. Mrs. Minko holds sessions during homeroom to go over the requirements of the project and to help walk the students through the process.
There had also been a senior class meeting where a video was shown of a sample interview, and a grading rubric had been handed out that had some examples of questions that may be asked to the students. There are samples of graduation project work at the circulation desk in the library, if any students are interested in looking at an example.
The senior's presentations are scheduled for the 11, 12 and 13 of November.
By: Abby Wilson