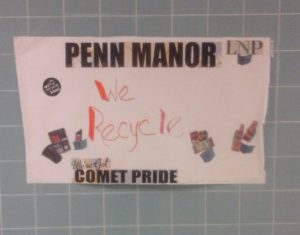 By Aly Whiteman
It was Friday, Sept. 30 when two students and a teacher brought 1,700 pounds of newspaper to Gordon's Recycling Services in York, Pa. All of the papers were stacked in the back of a white van, which drove up onto a giant scale and weighed in. After the van backed into what looks like a huge garage, the students threw all of the paper they collected into the giant pile of newspapers. The van is then weighed a second time, to see how many pounds they brought.
The students were students from Mrs. Melissa McMichael's Life Skills class, and the newspapers were the papers they collected from around Penn Manor High School.
Life Skills students gather the copy paper, newspapers, broken textbooks and magazines from the classrooms every Tuesday, then sort it into different piles depending on the types of paper, remove all paper clips and staples, then bring all of the supplies to Gordon's Waste on the last Friday of each month.
Julia Siar, a student in the Life Skills class likes how all of her classmates work as a team to sort and bring everything to the recycling center.
"Helping out is a good thing to do with the earth. Keeping it clean and healthy," Siar said.
Mrs. McMichael said that it's part of a "Good Citizenship" unit, which teaches the students skills, such as taking care of the earth and being active in the community.
Leroy Boynes, another student  the class, said that he learns how to sort the papers into piles, and what's trash and what's recyclables.
For each ton of printer paper, the class receives $70, and for each ton of newspaper, they get $45. Last year, they got approximately 38,000 pounds of materials from the school as a whole.
This money goes towards Community Based Instruction, which teach the students skills like table etiquette, then allows them to  visit a restaurant to practice those skills.