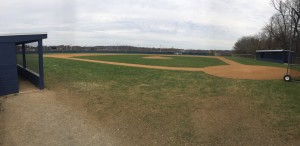 By Brian Markley
Players on the Penn Manor baseball team have spent all winter working hard, whether it was lifting weights at 6 a.m. or fine tuning their skills in a gym. But, now that spring has finally come, the Penn Manor baseball team is able to start their normal practices. With strong pitching and exceptional defense all around the diamond, the Comets have the right parts in order to achieve their goal of a deep play-off run.  
This year's team is a seasoned varsity squad, with all of the players being juniors and seniors who played together last year. This gives the Comets a big advantage that not all teams in the Lancaster-Lebanon league have. Having made the playoffs last year, the Comets are able to take what they learned from last year and implement that into what they need to do this year to be even more successful. The mindset around the team before the first official pitch of the season is that this team is capable to make a serious play-off run, and both the players and the coaches have bought into this mindset.  
Pitching is an essential part of the game, and good pitching can keep you in a lot of games; pitching is also an asset for the Comets.
"I think our biggest strength is our pitching staff," said Coach Jim Zander. "We return all our pitchers from last year and have added a few more from last year's JV team."
The Comets have one of the strongest pitching rotations in the LL league. Junior Jeff Taylor, who has committed to Penn State University to play baseball, leads the Comets, followed by seniors Jacob Herr and Collin Whiteside. Beyond these three, the Comets are supplied with a calvary of relief pitchers. Seniors Jeremy Miller and Justin Henson and juniors Grant Gale, Matt Tulli and Garrett Fry all make up the relief staff.
When asked about what the biggest strength of this years team is, senior pitcher Herr, who has committed to play baseball at the University of California Pennsylvania,  also shares his coach's enthusiasm with the pitching staff. "Our whole pitching staff has returned from last year, which is a huge advantage for us." Herr said.
Defensive play is also an essential part of baseball, and the Comets are strong in this aspect as well. Seniors Nate Brown and Nate McFarland make up the middle of the infield, playing second base and shortstop, respectively. These two have played next to each other since freshmen year, so they know how the other operates. The outfield is full of speed, which makes running down fly balls an almost non-issue. Speed also comes into play on the basepaths. If the Comets are able to get on base, look for them to use their speed and steal bases. The Comets ability to steal bases, along with their solid defense and their exceptional pitching makes for a well rounded team that will be tough to beat.
Coach Jim Zander's ultimate goal for this season is to have a "team that continues to improve everyday."
"I believe we all agree that if we continue to get better everyday that we have an opportunity to play late into May," Zander said.
When asked what his fellow pitchers and teammates mean to him, Jacob Herr said, "The bond we have with our staff resembles a family. I'm there for my brothers and they are there for me. Our bond is just another tool that we have to bring to the field to help us succeed. Mentally, we are all comfortable and confident with each other in any situation.
The Comets season kicks off at Comet Field this Thursday, March 24, at 4:15 p.m.. against Spring Grove.