By Brooke Swinehart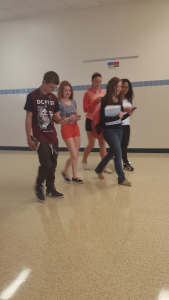 Students attending Penn Manor High School are now allowed to use their cell phones and other devices during the day.
The Penn Manor school board revised the cell phone policy to adjust to the the rise of technology. Students are now allowed to use cell phones during lunch and in the hallways. The student body is allowed to have one earbud in for music in the hallways. In case an emergency happens the student will still be able to hear and be in a more safe situation versus having both earbuds in.
The former policy was that students were only allowed to use their cell phones when permitted by teachers for school-related purposes.
Dr. Gale explained that the revision was needed.
"I felt it was necessary because (as an administration) we were saying here's a laptop, but put your cell phone away."
When asked their opinions, students reacted positively to the new cell phone policy.
"I think it was a good choice because people can wake up more by listening to music," said sophomore Rayssa Velez.
"I believe the environment has changed in the hallway. People who listen to music are more tolerable of others," said senior Angela Wood.
Out of the students' questioned most agreed that they gained respect for the principals and Penn Manor faculty for reevaluating the cell phone policy.
"I did gain respect for the principals and faculty, because it shows that they trust us more, and that they have the expectation for us be responsible," said senior Olivia Hertzler.
"I gained respect because it showed that they cared what the students had to say, worked together, and constructed a new policy," said senior Daniel Bleacher.
Teachers also commonly agreed that the revision of the cell phone policy was essential here at Penn Manor.
"The new policy is fair and reasonable. I'm not anti-technology I'm just anti- distraction," said English teacher Mrs. Saylor.
Teachers have the choice to have a cell phone free zone sign in their classroom.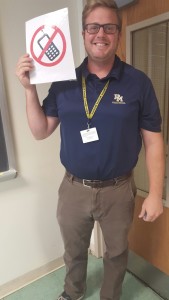 Math teacher Mr. Staub is one of the many teachers who decided to display a cell phone free classroom sign. He explained that he had the sign, "… as a reminder to not have cell phones out."
English teacher Dr. McGough does not display a sign that doesn't allow cell phones.
"No, never have. I encouraged students to bring your own devices (B.Y.O.D) before the school provided laptops." He also had a positive outlook about the new policy. "[The school has]… started to recognize handheld and digital devices in our everyday lives."
Teachers were also asked if the students' overall attitudes changed since the new policy was put into place. All of the teachers asked thought the students' attitudes did not change.
In order to make the revision many opinions were considered, and discussed.
Dr. Gale explained how the decision was made. "[We] talked as an administration team, met with students and surveyed teachers."
Despite the positive comments, some don't believe the policy will stay the same for long.
Dr. McGough stated that although he thought the policy was fair for the teachers, faculty, and students, " (the policy will)… continue to evolve as things change. As technology changes the policy has to change."