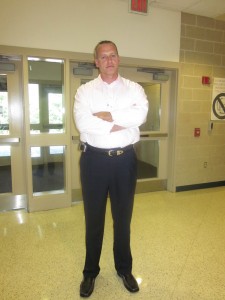 By Matt Tulli
Penn Manor math teacher Doug Kramer announces he will be taking over as head high school principal, effective tomorrow. Current principal Philip Gale's tenure will end today, April 1, 2015.
After just under six years at the helm of the high school, Gale's position will be overtaken immediately.
Though it may seem like a coup d'etat, Kramer insists that he thought he was the right man to take the position ever since it opened up in 2009.
Under Phil Gale, state-wide standardized testing scores have been well above state average. Also, over 70 percent of students have pursued post-secondary education, and student dropout rate has been far below state average.
"Mr. Kramer is going to make a good principal. He always comes to work with a positive attitude and is always willing to help any student who needs it," remarked a Penn Manor sophomore.
Doug Kramer has taught math to students of all ages, ranging from ninth to twelfth grade, so he has experience with kids of all ages.
"Well, I would say it's a good decision but I'm just not sure how kid-friendly Mr. Kramer is. Everyday I would come out of his classroom with a headache from his lessons. Who even needs to know what the asymptote is of the trinomial on the board, or the sine of negative two-thirds pi?" remarked another Penn Manor student.
"Dr. Gale can sometimes be intimidating, and Mr. Kramer just doesn't come off as that. I think that's a good thing," explained another student.