By Matt Tulli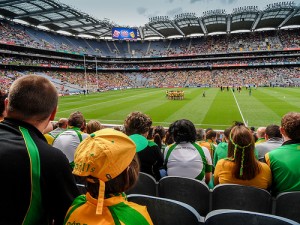 Penn Manor will possibly be scheduled against Cedar Cliff next year, but the location of the game is not exactly where you would expect.
The Global Ireland Football Tournament (GIFT) has chosen 12 schools across the country to play a game overseas at Croke Park Stadium in Dublin, Ireland, and Penn Manor is one of those 12.
Last year, seven high school football teams, two Canadian high school teams, two Division III college teams and a United Kingdom All-Star team all participated in GIFT. GIFT has produced over 100 games in 20  countries since 1996. Last year, it produced games in Italy, Mexico, Finland, Greece, Panama and France.
American Football has gained popularity in the British Isles over the past few years — the NFL has had an annual game in England every year since 2007, and Ireland hosted an NCAA game in 2012 featuring Notre Dame and Navy. Next year, Penn State will play Central Florida at Croke Park on August 30.
GIFT started talking with Cedar Cliff because of that team's relationships with Penn State, like freshman tight end Adam Breneman who played at Cedar Cliff, and Scott Lackey, the Cedar Cliff defensive coordinator and former Penn Manor coach.
Penn Manor was chosen because of its recent success (winning percentage of 70 percent and 55 All-Section 1 All Stars). Also, Penn Manor and Cedar Cliff squared off in the District Three AAAA playoff in 2012, with Penn Manor coming out victorious 43-10.
One important factor will be raising the money to travel to Ireland.
"The cost is about $3,400  per player/coach," said Athletic Director Jeff Roth. "And none of the money would come through Penn Manor School District."
The funds will be raised by events like a chicken BBQ, raffles and a Cadillac dinner.
The cost for a family member or friend to attend is $3,499 . The funding that the teams come up with will be used to fund airfare, accommodations, tours and a ticket to the Penn State-Central Florida matchup. Alumni and supporters of the high schools would also be able to travel with the teams if they purchased a ticket.
The trip will last from Tuesday, August 26 until the departure on Sunday, August 31.
Roth said that all varsity and junior varsity players who "commit to trip, help raise funds, and stay committed through the spring and summer will be able to attend."
The projected roster is roughly 50 players, 12 coaches (varsity, JV and freshmen), a trainer, an equipment manager and a webcaster. That will probably be about 75 players and coaches. It will be all current freshman, sophomores and juniors.