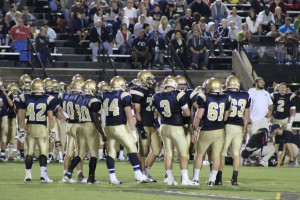 By Wyatt Stoeckl
Many people gather on Friday nights to watch the Penn Manor boys play football. So when the first game against Solanco came,  expectations were high from last year's record 10-2. Starting the season out well Penn Manor beat Solanco 42-0. They also tallied up wins over  Lampeter-Strasburg 28-14, Dallastown 13-10 and Hempfield 34-20.
Senior Brett Caggiano and junior Tyler Spangler, both starting players, were injured in a scrimmage against Manheim Central in the beginning of the season. Charlie Bell and Logan Kinser, seniors and starting players, both agree that the season is going well, despite the injuries.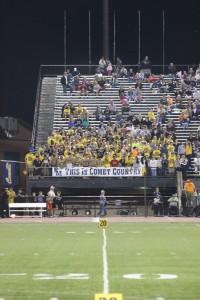 Head Coach Todd Mealy tells Lancaster Online, "My message was to focus on the standard we already hold ourselves to — the ability to move on to the next play. That's how we look at this."
"It has been a setback with two starting players not being able to be on the field, but I feel we have done a great job overcoming this obstacle," says Bell.
Kinser also agrees and says that it will be a setback during bigger games.
"I feel very confident about the team this season and that we have a solid offense and a strong defense," says Kinser.
When asked on who the toughest team will be this year Kinser replied, "Wilson, no doubt." Kinser says that he wants to end the season undefeated.
The Comets play Lancaster Catholic tonight at Lancaster Catholic High School.