By Elise Klingaman
Many citizens of the United States have different traditions for Thanksgiving: baking turkeys, watching It's Thanksgiving, Charlie Brown!, or traveling to different areas to be with their families for Thanksgiving Dinner.  One holiday tradition commonly shared among Americans is the Macy's Day Thanksgiving Parade.
According to The New York City Tourist website, the Macy's Thanksgiving Day Parade has been a New York holiday tradition since 1924.  The website also states that the Macy's Day parade attracts more than 3.5 million people to attend the streets of Manhattan and more than 50 million to watch the parade on the fourth Thursday of November.
According to the TLC Family website, in 1924 there were only three floats in the entire parade, each one pulled by horses.  There were also four bands and groups of camels, elephants, donkeys, and goats, all from the Central Park Zoo.  Santa was last in the lineup, a tradition still carried to this day.
In comparison, the 2007 Macy's Thanksgiving Day Parade included 24 floats, 800 clowns, 11 marching bands, 1,900 performers, and 42 balloons.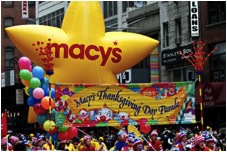 The famous-and sometimes comical-giant balloons in the Macy's parade first appeared in 1927, because the zoo animals were beginning to frighten the children.  The first balloons were of cartoon characters, such as Felix the Cat. The balloons used to be released into the air at the end of the parade, but in 1932 a pilot almost crashed into one of the balloons and that tradition came to an end.
The New York Police Department does not release the exact number of police officers are stationed at the parade. Officers are found riding along the outskirts of the parade on their motorcycles and watching from the Sky Watch, a portable two-story building that allows the guards to view the parade from above and can be displayed with multiple cameras.
Before the parade begins, all objects that could damage or obstruct the balloons, such as lampposts, street lights, and trees are either removed or altered.  By 6 a.m. Thanksgiving Day, all of the floats and balloons and prepared and ready to go.  The parade begins at 9 a.m.
Immediately following the parade, each of the structures and balloons is taken down and deflated.  The Sanitation Department estimated that the cost of cleanup after the 1990 parade was about $30,000, including mechanical sweepers to clean up the mess.  According to the book, Imponderables-The Solution to Mysteries of Everyday Life by David Feldman, the parade's trash rarely exceeds 10 tons.