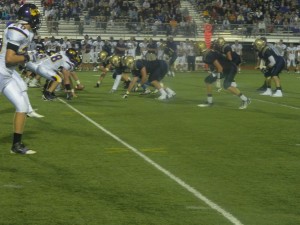 By Addie Porter
Comet pride is at an all-time high after the Penn Manor High School football team finished wiith a 9-1 record, the best in school history.
"That was something that motivated us," coach Todd Mealy said of the team's record in an  interview with Lancaster Online. "There was a lot for us to play for. It's been a special season as it is."
Early season games provided fans with a lot of excitement.
The team blew out rival Hempfield on September 21 with a score of 49-0. On September 28, the Comets defeated Lancaster Catholic, the reigning PIAA District III champions. With a final score of 28-14, Penn Manor's record improved to 5-0. The team continued its season with wins over the McCaskey Tornadoes, the Warwick Warriors and the Manheim Township Blue Streaks in the following weeks.
A one-touchdown loss to Wilson on October 26 was the team's only defeat of the season.
The team came back the following week with a 54-0 shut-out win against Cedar Crest at home on November 2. This game was Penn Manor's Senior Night.
"The coaching staff preaches the concept to the team on a weekly basis… to achieve their number-one goal each year, (which is to win Section one,) you have to win week in and week out in Section play and no opponent can be overlooked," says Gordon Eck, assistant coach of the Comets.
The Comets finished the regular season ranked fourth in the PIAA Class AAAA District III power rankings to qualify for the playoffs.
Tonight, the Comets will face Cedar Cliff High School in the first round of District III playoffs. Kickoff is at 7 p.m. at Millersville University's Biemsderfer Stadium. Tickets are available for $6 at the door.
Ally Rowe contributed to this story.