By Mrs. McMichael's Life Skills and Mrs. Taylor's School to Work classes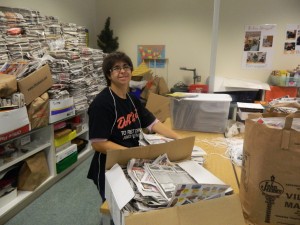 A program that grew out of a unit on recycling about three years ago has since grown into a school-wide recycling effort run by the Life Skills and School to Work classes. When the students learned that Penn Manor High School was throwing away thousands of newspapers every month, they were surprised.
"I assumed that the school was recycling the daily newspapers," said Mrs. Barbara Chambers, classroom aide. "I was shocked to hear that they were really going in to the landfill."
The class took a vote and decided to start a newspaper recycling program.
"I sprang to action by making calls to recycling plants that would accept our papers," said Mrs. Chambers.
In the first stage of the recycling program, the class took the papers to Shell's Disposal and Recycling Center in Lancaster. Later, Mrs. Denise Harris, classroom aide, learned that Gordon's Waste in Columbia, Penn. would recycle the papers and offer a small sum of money for each ton of paper collected. Any money collected is used to fund Life Skills and School to Work classroom projects.
Every Friday, the Life Skills and School to Work classes collect newspapers, copy paper and magazines from drop-off locations throughout the school, then bundle and store them in the back of the Life Skills classroom.  One day a month, a small group of students delivers the newspapers to the recycling plant.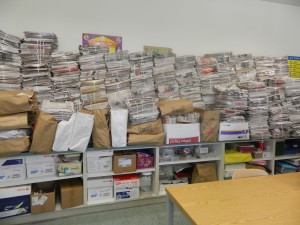 During the 2011-2012 school year, the Life Skills and School to Work students recycled 22,800 pounds of newspapers and magazines
"Recycling was a big issue with the High School up until you started your recycling program," Mr. Philip Gale, Penn Manor High School principal told the classes. "It's very expensive for us to have a company remove the newspapers.  The fact that you collect and take them to be recycled helps our environment and saves the school a lot of money."
Newspapers are not the only item recycled at Penn Manor.  Mrs. Sallie Bookman and the Recycling Initiative Club collect cans and bottles throughout the school to recycle, as well.