By Austin Rowley and Becca Hess –

No Penn Manor senior at Post Prom left without a prize and, more importantly, no one left without special memories to take with them for the rest of their lives.
Every year, after the Penn Manor's Prom, a Post Prom is held at the high school. Post Prom is organized and planned out by a Post Prom committee. The committee is comprised of the parents of the graduating class of that year. Linda Simpson and Lynda Charles were the the heads of the committee.
Learning support teacher Kathy Kirk also played a huge role in conducting the activities that would take place at Post Prom.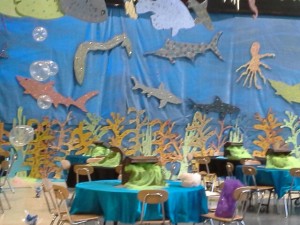 "People were so good about helping out… I can't say enough to thank them," said Kirk. "Everybody had a hand in it, whether it was donating money or equipment. We used connections from all over to get donations and sponsorships… We went all over the place."
Activities at Post Prom included a mechanical shark, a casino and beach volleyball. The committee also called in Chris Ivy, a fourth grade teacher at Eshleman Elementary, who juggled everything from bowling pins to machetes and Joanna Cameron, also known as "The Trance Lady," who is a hypnotherapist.
Dylan Kniesley, a senior at Penn Manor, was one of the few students who had the opportunity to get hypnotized by Cameron. She gave those on stage who were getting hypnotized suggestions, and they would do what she said accordingly. Some of the suggestions included performing as Michael Jackson or Brittany Spears, playing the role as a Disney character running for president, and acting like a five year-old.
Kniesley was most noted for his Michael Jackson performance.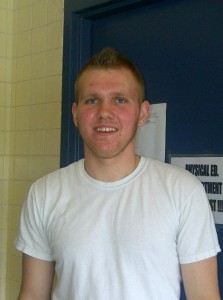 "I was zoned out the whole time. I don't remember a thing," said Kniesley. "You feel really relaxed once you start zoning out."
Her Michael Jackson suggestion cued "Beat It," to play in the background and Kniesley willingly took the stage and danced and sang along with the song. Videos of his performance were then posted on Facebook.
"I thought it was funny; I didn't mind the videos on Facebook at all," said Kniesley.
At the end of the night, prizes were raffled off. Students won tickets while playing the many games at Post Prom. The tickets that were awarded were placed into bags with different prize options on them, and a ticket with a name on the back was randomly selected for a lucky winner.
Kevin Brubaker, also a senior at Penn Manor, won an Xbox 360. Brubaker said that winning the Xbox was "sweet."
"I only put in two tickets for the Xbox. I already sold it because I already have one," said Brubaker. "Post Prom was a lot of fun and I really enjoyed it."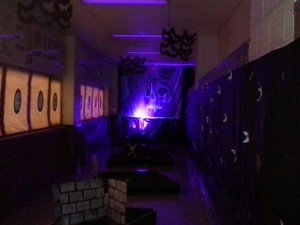 "(Post Prom) was a lot of fun," said senior Ryan Dettery. "Me and Austin (Hess) were doing the bungee thing and I was getting thrown around. It was more fun then I thought it would be and there were a lot of good prizes."
Senior Elisa Ott also commented on how much she enjoyed Post Prom. "Seeing people getting thrown off of the (mechanical) shark and the hypnotist were funny… It was all great, " said Ott.
The preparation that was involved to bring Post Prom to life, according to Kirk, took about a year. Anyone that attended Post Prom came to a pretty clear consensus that their efforts paid off and it was a huge success.