It's not 76 trombones. It's more like 15 Ukuleles.
"The music department which has seen better times with the cuts at the elementary school level have something to be happy about. Four grants were just given to Penn Manor's music department by the Music For Everyone foundation. These grants include 15 Ukuleles, two cellos, and a hand full of Orff instruments," explained Ricciardi.
An Orff instrument is simply a wooden xylophone used primarily by younger students.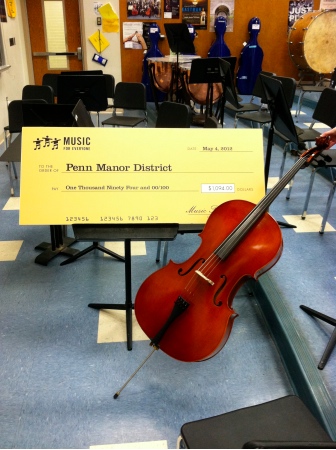 "The Music For Everyone foundation has the grant program every year. It grants money to programs in need. In light of the budget cuts here, we could use every penny that we can get. A bunch of different teachers applied for grants. We didn't get the full amount that we wanted but we got almost $5,000 dollars, which is better than nothing," explained Sara Ricciardi the Orchestra teacher at Penn Manor high school and middle school.
The Music department is under much distress with more then half of their budget getting cut from the year before.
"Next year we are cut below $9,000 dollars, and that is down from $20,000. Our department alone at the high school run one about $12,000 dollars every year just for basic necessities to keep us functioning as a music department. So every penny that we get can help," said Ricciardi.
These instruments are much needed at Penn Manor and are being put to use right away. The Ukuleles, guitars, Orff, and the pair of cellos are already in use.
"Here at the high school we had eight cellists and only four working cellos. So those cellos will be used for those students for rehearsal but we still need two more cellos. We use the Ukuleles down at Marticville, where I use it in my general music classes," said Ricciardi.
Penn Manor got 15 Ukuleles as well in the beginning of the year from the education foundation.
"I needed 15 more so that I have a full classroom set. I can get way more done with the kids. It is like a Ukulele uprising down there."
It isn't just the high school music department that is getting in the fun. The elementary schools are jumping in as well. Hambright and Pequea music classes got a nice addition to their classrooms.
"The guitars are at Hambright Elementry. Lee Jordan, the teacher there, got thirty guitars and Sue Hamer at Pequea got a bunch of orff instruments," explained Ricciardi.
There is nearly $5,000 of grants that will be spread across the district.
"We are really excited because Music For Everyone is doing this for us and they told us to apply again next year because that is there purpose, to keep music alive in the schools. So we'll keep applying for stuff and maybe I can get two more cellos," explained Ricciardi.