By Daulton Parmer –
Alone. By myself. In the dark. Chryst Field.
I love it.
There's no better feeling than putting on that football helmet being in your own little world.
Everything else cut off.
All other thoughts eliminated.
I alter to my dark side.
Unable to hear the fans in the crowd, the cheerleaders, anything, but the trash talking from the opposing team and the quarterback's cadence.
Just focusing on how I'm going to embarrass the guy across from me.
Kickoff.
Butterflies overwhelming me inside.
Waiting for that first hit to calm me down.
My blockers demolishing anyone who gets in their way, one more guy to beat. Whoops! Side-stepped the last guy and left him laying on the turf, his left ankle twisted a bit and his right shoe non-existent.
Where the?! He got my shoe string, that kid came out of nowhere.
Looks like I'll just have to score next play.
Lining up wide, a little eye contact with the qb, and we both know what the other is thinking.
Looking for the soft spot in the defense, the quarterback and I link up in the middle of the end-zone.
Touchdown!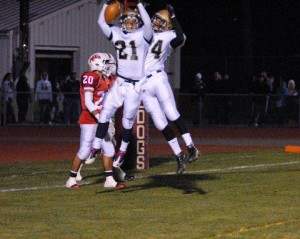 Time to celebrate with my boys. Different handshakes memorized with each and every player. Double clap side bump with my quarterback.
Now time for defense, my favorite.
Lining up against the other team's best player. First play on defense, giving him a little shot that tells him  "it will be coming all night,"
Reading the receiver's feet, I can tell what he's about to do.
Meeting him there at the exact moment he touches the ball.
BOOM! Rocked him, the ball goes flying from his grip. He gets up, not even knowing where he is. Stumbling around like a first time drinker trying to impress his friends.
It makes me feel powerful, crazy, like a monster.
I like it.
After the war, sacrificing my body for 48 minutes straight. Taking beatings and giving them as well.
Everything aches, no other athlete will ever understand how much a single football game takes out of you. That's why there's only one every week.
It's so worth it after all the glory we receive by the rowdy fans and the loyal parents. Not to mention all of the little kids that look up to you.
I don't want this night to end.