By Brady Charles –
Through injuries and a tough road, the Penn Manor girls soccer team just keeps fighting.
With early injuries in the season to their captain and center back Sara Bennis and midfielder Sam Wright, the Comets struggled through many games, but endured all the tough times and got through it.
But wait.
The injury bug struck again. Starting forward and Stony Brook recruit Lindsay Hutchinson suffered a torn acl earlier this month. Another slap to the face to the Comets, coming at the wrong time.
"It was very emotional losing Lindsay to a season-ending injury, we've been playing together for as long as I can remember," said Bennis.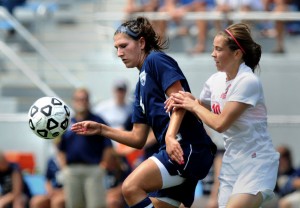 With the playoffs right around the corner the Comets were in need of a big win. The Comets got that big win Wednesday night which was also senior night. The Penn Manor girls soccer team faced off against Lancaster Lebanon League rival Manheim Township and pulled out a 1-0 victory to knot up the top of the standings in section one. Penn Manor along with Township and Cedar Crest are now tangled up in second place all with a record of 7-4 in league play.
"It was a huge win, and a big confidence booster, were right back in the swing of things," said Bennis.
With the tight Section One race, the Comets hope to qualify for league playoffs, with just three games remaining in the season.
This week will decide the fate for the 2012 girls soccer team, facing off against McCaskey, Cedar Crest and Hempfield all within a week.
The motto they'll be living by, win or go home.