By Ryan Flexman –
Once again the USA national soccer team has failed to reach the Olympics. For the second time in the last three Olympics the United States will not be represented in the soccer competition.
The under-23 U.S. soccer team was in Group A for the Olympic qualifying, with Canada, El Salvador, and Cuba. The team could not clinch a spot, finishing third out of four in the group, one goal behind second place and the 2012 Olympics.
"This is probably the worst feeling I have ever felt in my life so far as a pro athlete," said Freddy Adu, team captain for the U.S. national team who notched two assists in their El Salvador showdown.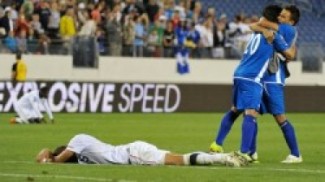 After a depressing 2-0 loss against Canada, El Salvador was their last hope. A goal from Terrence Boyd in the first 61 seconds gave the U.S. confidence that they could leave with an easy victory.
But El Salvador wasn't giving up without a fight.
Not long after Boyd's goal, the underdog El Salvador put two quick goals on the board to make it 2 to 1 before half.
After the two goals were scored by El Salvador, goalkeeper Bill Hamid was replaced by Sean Johnson who played the remainder of the game.
The U.S. came back with two goals within three minutes of each other to regain the lead, a second from Boyd and one from Joe Corona. All they had to do was keep it that way to advance to the next stage.
But they didn't.
With less than four minutes left, El Salvador's Jaime Alas blasted a 25 yard shot off of the goalkeepers hands and in the net, ruining hopes for the U.S.
Several American players dropped to the ground in devastation and disbelief.
Goalkeeper Sean Johnson, who did not start the game and let the equalizer in the net, refused to speak with reporters after their devastating tie.
"It truly is amazing how much more undeveloped the U.S. Men's Soccer is compared to other countries around the world," said Penn Manor junior Bobby Goss.
USA superstars Landon Donavon and Clint Dempsey were not playing in any of their Olympic qualifying games, which is a popular excuse for fans around the country for the team's disappointing defeat.
View the highlights of the U.S. vs. El Salvador soccer match at:  http://www.ussoccer.com/media-library/Videos/U23-MNT/2012/03/120327-U23-MNT-vs-SLV-Highlights.aspx