By Simon Zimmerman-
The streak continues.
The Penn Manor boys volleyball team came out with another emphatic win Thursday night and this time they worked their charms against their archrivals Hempfield.
The Comets are unbeaten this season with a record of 6-0 so far.
"The game was very intense going back and forth between each team," said senior spectator Kara Overmeyer, "I could barely handle it."
The Comets have not beaten the Black Knights in league play since 2005. This win brought out a lot of emotion from both teams, but more from the group of seniors on the Comet squad.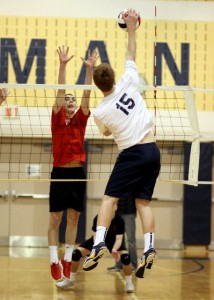 "We knew going into the game that it was going to be a battle, but I had no idea how intense it was going to be and after we gave it our all it really meant something," said senior outside hitter Joey Jackson.
The Comets won the match in five games. This was a struggle for them considering they lost two of the first three games of the match.
After the first three games they [the Comets] found new energy deep inside and won games four and five of the match sealing their hard fought victory.
This victory brought back sweet memories of the 2005 Penn Manor Boys Volleyball team that was assembled and made it all the way to the state semi-final game where they came up short against New Oxford.
"As long as we stay mentally strong and keep our confidence high we have a shot at states," predicted senior setter Cheyenne Weber.
Penn Manor seniors Dayonte Dixon and Dylan Weber both had very strong offensive play during the match.
Dixon had 17 kills and Weber had one less with 16 kills.
This burst of offensive power was too much for Hempfield to handle even though their kill leader, Garrett Dimm, had 21.
On the defensive side of Penn Manor's team, Junior Mark Dano played very well as the team's libero, recording 19 digs to help secure the Comet's victory.
This win was not only a big win because it was against Hempfield, but it was also huge because Hempfield is one of PVCA's top ten team in the state.
This records the Comet's fourth win this season against a team of this caliber.
These teams include Lower Dauphin, Pennridge, Dallastown, and Hempfield.
All were top ten teams in the state when the came across Penn Manor's path and failed to overcome the Comet's.
With a long season still at stake, this momentous victory will surely help the Comet's chain together many more wins.
The next Penn Manor – Hempfield showdown will be at Hempfield on May 8.
Hempfield will most likely come out seeking revenge.
"This win goes a long way but this is just one match. We'll see this team again and they will be just as good if not better: We're going to have to have just as big a fight," said Penn Manor Head Coach Chris Telesco in an article published by Lancaster Newspapers.
It will for sure be another barnburner.