By Taylor Skelly –
Experience.  It's what the Comets hope will pull their baseball team out of the slump that plagued them last year.
Last spring, the Penn Manor High School varsity baseball team ended the season with a less than inspiring Lancaster-Lebanon League record of seven wins and nine losses, coupled with an overall record of nine wins and twelve losses. In the 2011-2012 season, Penn Manor looks to a more experienced pitching staff to carry them through the season.
"Last year we didn't have one returning starting pitcher, this year we have three, Darren Weidman, Joe Witmer and Zac Burke, which will give us some extra experience," said head coach Jim Zander.
Pitching, along with fielding will be oh so important this year due to the change in rules regarding the types of bats allowed. As a result of an increased number of injuries to high school and college baseball players, the National Federation of State High School Associations requires that all bats meet the new Batted Ball Coefficient of Restitution, or BBCOR, standards. Although making the game safer, these bats will greatly inhibit players' ability to hit for power, creating lower scoring games, all while making the team's ability to field without error and pitch efficiently all that more important.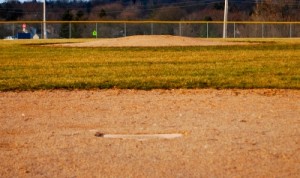 On the diamond tech, the Comets will rely on returning starters, senior Will Welsh at first and junior Zac Burke at third to hold down the corners.
Junior Darren Weidman at short stop and senior Joe Witmer at second will protect the heart of the infield.
Coupled with the added experience, this year's team has been dedicated to the weight room and off-season work outs.
We've had a good off season with a lot of dedication, we have workouts Monday, Wednesday and Friday at 6 a.m. in the weight room, as well as open gyms a couple times a week in the evenings said Zander.
"Everybody is doing what they can to improve," said junior Zac Burke excitedly.
Although the season has yet to begin, the team is already looking forward to the post season to achieve their number one goal.
"Last year we finished with a record under .500 which was a disappointment, so we are looking to improve that record to be over .500, and of course we want to win a section title," said Burke.
The final season for all high school athletes is always special, but for this year's group of seniors there is an increased sense of urgency.
"It's more emotional because I know it's my last year and I feel like I have something to prove, and there's more kids looking up to me," said senior Austin Richwine, "We(seniors) all have a leadership role on the team."
Penn Manor's baseball team may have lacked the experience to be successful last year, but the 2012 season may a completely different story.