By Sam Valentin-
It is one of the most under-respected sports here at Penn Manor. It also is the most mentally challenging. It is played on a board with two players. Did you figure out what sports team this story is about?
Why the chess team of course.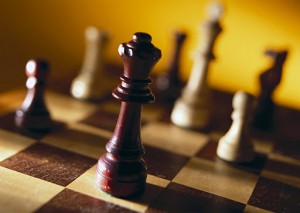 They just concluded their season with a wrenching loss to higher ranked  Warwick in the semifinals of leagues 2-3.
Board one senior, Logan White and Trent Warfel picked up wins for Penn Manor. Chris Penn, Daniel Lyons, and Jake Shiner all lost to the Warriors. Daniel Lyons and Jake Shiner both made costly miscues which cost them their games and ultimately their season.
"It was a really good season,"said White. "We made it to semis and just barely lost. I had a good time and everyone improved."
The Penn Manor Comet's chess team finished the year 8-5. They started the year off very strong, leading the league. They dropped some close matches but still secured the fifth seed in leagues which handed them a meeting with Ephrata. They beat Ephrata 6-3 overall which set up their meeting with top-ranked Warwick.
Everyone on the team believed that they could beat Warwick and have a chance to face Lancaster Mennonite or Hempfield in the final. But the Lancaster- Lebanon League was very strong this year.
"Closest matched chess league in 20 years," estimated chess coach James Yearsley about the L-L league. "Its like the NFL on any given day another team could beat the other."
Even though the Lancaster-Lebanon league is highly contested when it comes to chess, the chess team here is just not very recognized. Several students at Penn Manor did not know the school had a chess team.
"I really don't know. I think so," answered Penn Manor senior Cody Diehl. "I have heard of chess club but did not know we had a competitive team."
The chess team should not be confused with the chess club, although the chess team players do participate in the chess club.
Even the chess team recognizes the fact that they are relatively under the radar at Penn Manor.
"No it is chess. Not really something most people enjoy watching," joked Logan White, Penn Manor's number one player.
Although some students are in fact aware that there is a chess team here, the chess team hopes to gain more popularity next year  – and even more success.