By Corey Fry –
This week on MTV, Mike Judge's popular animated series, Beavis and Butthead made a return. On Thursday night the show aired in Jersey Shore's previous time slot after their latest season ended.
Beavis and Buttheadis a crudely drawn animated series centered around the lives of two hormone-driven, metal-loving 14 year old boys. The premise of the series was to follow the actions of the two barely-literate delinquents as
they embarked on short adventures in their fictional town of Highland, Texas.  Each episode features the duo sitting idly on a couch spectating on music videos and cable television shows.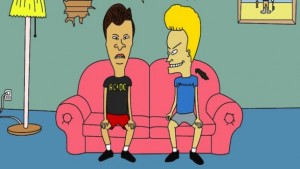 The show was a hit when it originally aired in the early 90's, its first season premiered in 1993 and the show continued for 8 seasons until it was canceled in November, 1997.
"I felt like television was becoming too smart," Judge said at the 2011 ComiCon.
In their debut episode, "Werewolves of Highland", the boys took shots at series' such as Teen Mom, The Twilight Saga, and Jersey Shore. Music videos by Skrillex and MGMT were included as well.
"I don't think its going to be as good as before, but I still plan on watching it," said Beavis and Butthead fan Chad Gates.
Thursday's showing received modest ratings, scoring an 8.0 on metacritic.  Beavis and Butthead will continue to air on Thursday nights at 10:00.