By Eric Schlotzhauer –
Penn Manor's rally after the first set was not enough to hold the Black Knights from a win during last Wednesday's League Championship Girl's Volleyball game.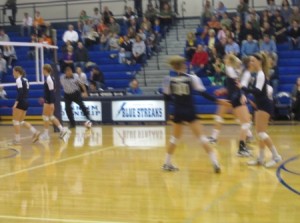 To start off the game, the Black Knights came out strong.  Leading Penn Manor Comets' throughout the whole first set, they dominated them in a 25-10 win.
Penn Manor did not stay quiet for long.  Effortless spikes from junior Jessie Greenslade allowed the Comets to take the set 25-19 and tied it up at one game a piece.
With all the momentum in their favor, Penn Manor played astounding in the third set, showing an inspiring performance and causing the fans to react in roaring applause.  They took the win after great defense in front of the net by Cassie Sangrey and took the lead two sets to one.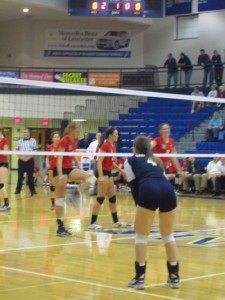 The two-game rally executed by the Comets wasn't enough to silence the reigning state champions.  They fired back and picked away at the Comets defeating them 25-14, and tying it at two all, making it necessary for a first to 15, fifth and final set, to determine who would become the league champions.
Both teams had everything to lose in the fifth set.  The desperation and desire to win was evident in the eyes of all the players.
With the game tied at 10-10 in the fifth set, Hempfield began to show why they were projected to be just as good this year as last year.  They took the lead 11-10 and showed to be too much for the Comets, winning 15-12 and taking the title 3-2.
Both teams will be looking to go far in districts when they play their first games this upcoming Tuesday.