By Alexander Sanchez-Cruz –
Time travel is an object of the imagination but now one of Hollywood's most notable time travel trilogies has become a reality in footwear.
Now people can now buy a "Back To The Future Part 2" Air Mag Marty Mcfly pair of shoes made by Nike. These iconic shoes have been on eBay and have sold for a very high price.
In 1985 the idea of being able to time travel went to the big screen as the "Back To The Future trilogy."  These movies sold millions and were a huge hit, staring Michael J. Fox.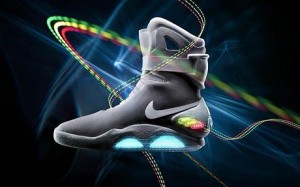 And 20 years later a futuristic shoe based on the original movies was developed by Nike and made available to fans for 10 days in September.
In fact  British rapper Tinie Tempah, spent a whopping $37,500 for the first pair of "Nike Mags," a limited edition replica of the shoes Marty McFly wore in Back to the Future Part II, TMZ reports.
Nike auctioned 1500 pairs of the shoes on Ebay to benefit the Parkinson's Foundation.  Michael J. Fox suffers from Parkinson's disease.
According to the Michael J. Fox.org the shoes features an electroluminescent outsole, space-age materials and a rechargeable internal battery good for 3,000 hours. The downside to these shoes is that they're not made for sports, these shoes are only for show.
Also, as part of the Brin Wojcicki Challenge, Sergey Brin, co-founder of Google, and his wife Anne Wojcicki, co-founder of personal genetics company 23andMe, are matching up to $50 million in funds raised by the Foundation between now and December 31, 2012. Net proceeds from the 2011 MAG auctions on eBay will be matched.
It is hoped this money will go to research to finally get rid of this disease, so no one in the  future has to face it.