By Jay Jackson –
No more thick planners, no more lunch schedules and no more little things.
With excitement surrounding the beginning of the school year, it didn't take students long to realize that this year may be a bit "cut back."
The budget has taken a hit and it is obvious to teachers and students. It isn't a shock that there were cut backs however some are astonished with all of the little things that they can no long take advantage of.
"A lot of little cut backs add up to a big cut back," said assistant principal Dr. Jason D'Amico.
In this economy and the lack of state funding, these cut backs were expected.
"It is expected something is going on. Most people know that there were going to be cut backs," said D'Amico.
Despite the money trouble, the school is up and running and isn't out of money as of now.
"The district isn't running out of money but we are being fiscally conservative," said D'Amico.
The teachers were asked to cut down on the materials because every little thing counts.
"We are definitely more conscientious of what we really need like all of the materials and papers. I am trying to save as much as possible," said Melissa Frerichs, an English teacher at Penn Manor High School.
The whole staff is feeling the pressure to save money, paper, ink and other resources. It is school wide savings.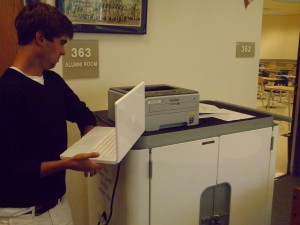 "Both teachers and students need to budget supplies," said Jeffrey Taylor, also an English teacher at Penn Manor.
There are cuts with the transportation as well. They are making kids walk a little bit further so the bus doesn't have to stop as much, and no more late sports bus. Which saves gas, and money.
Some students are up in arms with the cut backs.
It is obvious around the school to the senior class to all of the cut backs.
"It is incredibly noticeable with all the cut backs around the school. It is ridiculous," said Ryan Martzall a senior at Penn Manor.
"I think it is ridiculous that my planner is like 3 pages. It is crushed and wrinkled in my backpack and I had to buy I new one," said Abby Barley senior at Penn Manor.
"I think it is stealing from my education," said Eddie Bley, also a senior at Penn Manor High School.